The G. d'Annunzio University of Chieti – Pescara is the project leader and will carry out the actions of the project in collaboration with two local associations: "Associazione Focolare Maria Regina onlus" and "L'Angelo Custode". The partnership includes CONI Abruzzo, the Departments of Social Policy, Health, Family and Equal Opportunities of Abruzzo, the Juvenile Court of L'Aquila, and the Order of Psychologists of Abruzzo.
General co-ordination center of the project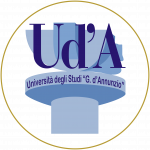 Università G. d'Annunzio di Chieti-Pescara
Professors and researchers of the University G. d'Annunzio involved in the project actions:
The following institutional subjects will be part of the regional inter-institutional network of attention and protection to share experiences, critical points, and prevention strategies. They will contribute to the development of a code of ethics and behavior and a policy document and will guarantee its distribution throughout the territory.